Welcome to Sintong Abadi
PT. Sintong Abadi (SA) was established in 1996. Out objective is to create more business oppotunities with worldwide partnership and networks.
We are manufacturing, engineering and trading company based in Malaysia and Indonesia. Out goal is to deal agricultural product both crude and processed and particlary palm oil, with Malaysia and Indonesia being the world's leading palm oil products in large columes. We also have easy access to palm oil supplies from Indonesia as well as suppliers from regional markets such as Singapore, Indonesia, China and Europe.
At here we combine the knowledge of the people who were working in this field for many years. Our company are managed by a team of highly experienced managers and staffs. As an integrated palm oil company, we produce a variety range of products across the palm oil supply chain. In this aspect, since Malaysia and Indonesia is the world's leading palm oil producer, we are in a position to supply good quality palm oil products.
We manufacture oil products such as Cooking Oil, Margarine, Bakery Shortening, Cream Fats, Frying Fats and also Palm Kernel Oil. To meet our customer's demand further, we also manufacturing Personal Care Products, Household Products, Palm Wax, Animal Feeds and Renewable Energy (Biodiesel) With the opportunities of new markets, investments in production and technology have made it possible to meet large demands in any packing size of our oil products.
BUSINESS PRINCIPLE
KNOWLEDGE & EXPERIENCE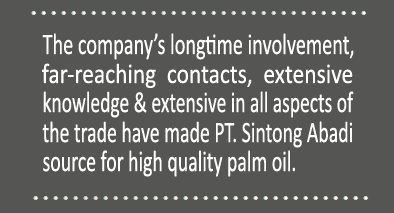 TRADITION OF COMMITMENT
BEST QUALITY